---
Thanks for the advice. Yep - kids are staying with grandparents if we go to this one.
---
Great interview with Eavis following his Keynote speech to IFF, how he nearly went bust, Stonehenge and what he makes out of it.
A good read.
He mentions the Battle of the Beanfield in '85. That was a huge issue up my way - the exclusion zones went on for years. I made the front page one year explaining the Law would never stop the Hippies coming, you needed to make them NOT want to be there - and yeah, the council in Salisbury actually debated my idea - which was to have their own official festival at the sight and headline it with Madonna.
Damn, I couldda be Michael Eavis
---
My mum's ended up like a field hospital. It wasn't just adults that were injured by Maggies militia.

---
"After an epiphany at 1970's Bath Festival – "I fell in love," he explained. "They had Led Zeppelin, Pink Floyd, all these west coast [US] bands" – Eavis decided to use the newly inherited Worthy Farm for a festival of his own. "[Bath] was my road to Damascus," he said."
Fuckit I could have been Michael Eavis too…if I'd experienced an epiphany…I was at the same festival.
---
Not quite Glasto but thought it could reside here seeing as even we were torn by their headline appearance.
Why? Well, it seems that an almost Bazza-esque "row" has broken out between that Bastion of Neo Nazi propaganda and Trumps mouthpice and - wait for it -
Seriously
Radiohead.
In fact the Guardian picked it up and has delivered an absolutely wonderful demolition of the entire thing.
Although it made me wonder who on here is strange malnourished and sad.
And the entire non-response to win the war was almost priceless.
Made I smirk it done.
Knives out: why Fox News has declared war on Radiohead
Two of the channel's libertarian 'comedians' are slagging off the British band – and their fans – after Thom Yorke and co were nominated for inclusion in the Rock & Roll Hall of Fame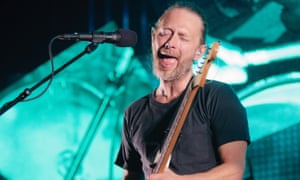 Thom Yorke of the band described by Fox News's Greg Gutfeld as 'the poor man's Coldplay'. Photograph: Danny Payne/Rex/Shutterstock
Tuesday 31 October 2017 13.24 GMTLast modified on Tuesday 31 October 2017 22.42 GMT
Name: Fox News v Radiohead.
Age: About two weeks old.
**Appearance: ** Almost entirely on Fox News.
**What is it? Some kind of remix? ** It's a feud.
Who are the combatants? On the one hand, Fox News; more specifically, Greg Gutfeld and Kat Timpf.
I've never heard of either of those people. Timpf, a millennial libertarian comedian, is a frequent guest on Gutfeld's comedy libertarian chatshow on Fox.
**I didn't know there was such a thing as a funny libertarian. ** It turns out there isn't, but they plough on.
And on the other hand? The popular beat combo Radiohead, formed in Abingdon, Oxfordshire, in 1985.
**It's hard to imagine two such entities squaring off. I thought Fox News was entirely devoted to hating immigrants, Muslims and Hillary Clinton. ** If it is trying to diversify, it's off to a shaky start.
**How did all this come about? ** It began during a televised discussion about Radiohead's recent nomination for induction into the Rock & Roll Hall of Fame. Timpf described the band's fans as "strange, malnourished and sad", and their music as "elaborate moaning and whining over ringtone sounds".
Slagging off Radiohead – the one area where the US is still 10 years behind Britain. After some pushback from fans, Gutfeld and Timpf revisited the topic last week, with Gutfeld referring to Radiohead as "the poor man's Coldplay".
**That remark proves he knows the names of two British bands, and almost nothing else. ** On another Fox News show, Gutfeld called for Radiohead's music to be banned from public places, and referred to them as "the poor man's Air Supply".
**That doesn't work either. He sounds like a cut-price Jeremy Clarkson. ** All the bad-mouthing culminated in a spoof ad featuring Timpf as someone suffering from "Radiohead lice".
**Now they've gone too far. There's nothing funny about head lice. ** This sketch certainly proved that.
**What did Radiohead do in retaliation? ** Not a lot. Guitarist Jonny Greenwood changed his Twitter bio to include the phrase "strange, malnourished and sad", but then he changed it back again.
**So they won the feud. ** They didn't really even turn up for it, but yeah.
Do say: "Fox News – where music criticism comes to die."
Don't say: "I think you'll find most of us Radiohead fans are happy, conventional and dangerously overweight."
---
Radiohead. The less well attended Craig David.
---
This was a crap point the first time you made it. It's no better this time.
Headliners rarely get the biggest crowd of the weekend, bar a few exceptions - Rolling Stones, for example.
---
Foos kicked their arses. Fucking Ed Sheeran kicked their arses.
I guess like Spinal Tap, they're not any less popular. Their appeal is becoming more selective.
---
Oh noes. Down votes from @saintbristol .
Personally, I can think of better uses for a Karma Policeman. Stop the band playing for the occupiers in an apartheid state, for starters.
---
I'm just happy that we made the collective decision not to bother with Radiohead. It was simple for me because at the end of the day, radio here recycles about 50 80's tracks a week and anything by Bieber/Mendez etc so Radiohead simply were not on my radar
We bumbled around, caught some great stuff including Clean Bandit who tbh our lot would NEVER have admitted to bothering to walk to.
My only input on the headline gig that night?
We were able to pass through the Pyramid Field with great ease on our way back for a late night "talk shit" session back at base compared to the sardine experience the next evening with the Foos.
I'll never criticise Radiohead - they do their stuff well. I don't have "one genre" ffs I watched Jayzee & Queens of the Stone Age over the years and everything in between.
They simply don't float my boat.
---
Rolling Stones…poor man's Howlin' Wolf?..
Wherever the arts are concerned nobody has a right answer…discussion or argument…pointless.
---
Check your inbox / spam Glasto lovers. Important GDPR link to click
---
Muse are back, guess that'll be them headlining next year then

---